News
Congrats to Charles M. Rice for his Nobel award in Physiology and Medecine 2020
ALIGNSEC is a module within ANTHEPROT designed for the interactive display, edition and printing of large scale multiple alignments integrating secondary structure predictions.The ALIGNSEC module is part of the ANTHEPROT package (which can be used freely for academic users.
NPS@ web server is running for 20 years. It performs more than 23,000, 000 of protein sequence jobs (25% from France, 25% from Europa, 25 from USA and 25% rest of the world).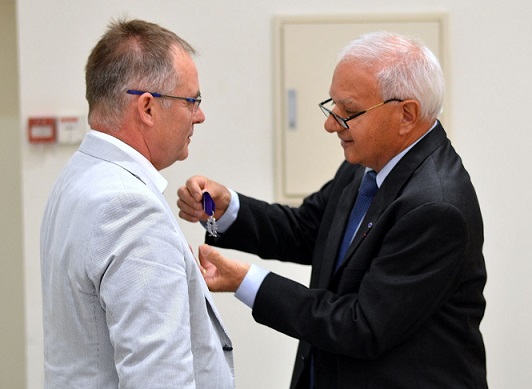 Remise des Palmes Académiques

Le 26 mai 2016, le Pr AJ. Cozzone m'a remis les insignes de chevalier dans l'Ordre des Palmes académiques. Elles viennent récompenser l'engagement pour la recherche et l'enseignement supérieur.